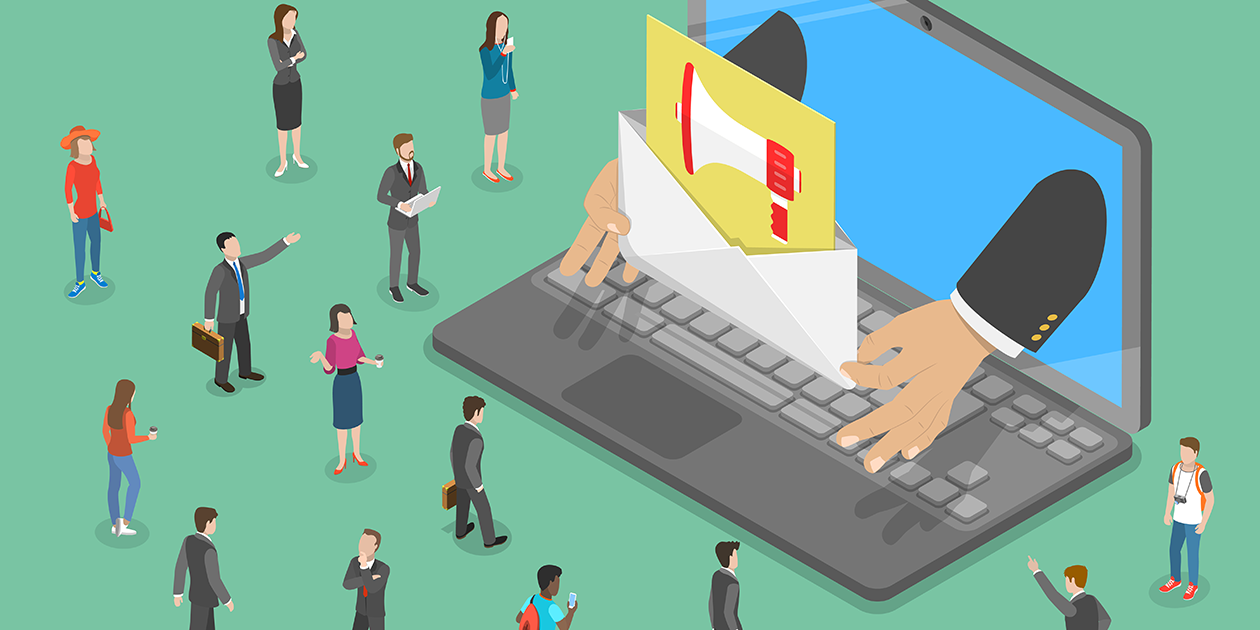 There's often minimal communication between sales and marketing teams about their corporate newsletter strategy. Publishing email newsletters is typically seen as a 'marketing' function, which couldn't be further from the truth.
Email marketing is meant to build brand awareness, but it serves an even more important role: to support sales prospecting efforts. After all, the contacts on your email list are the same people that sellers are actively trying to convert into customers.
Sales and marketing alignment is essential for a successful newsletter strategy. It helps the teams create messaging that provides hot prospects with interesting and relevant information as they progress through the buyer journey. Collaboration dramatically increases the likelihood that you'll communicate the right information to the right people at the right time. And that equates to more leads and sales.
Here are some examples of newsletter reconnaissance that aligned sales and marketing teams conduct to ensure email marketing is positively contributing to the bottom line.
What Sales Needs to Know from Marketing
Marketing needs to provide the sales team with an easy way to monitor people who are engaging or disengaging from their corporate communications. Specifically, salespeople need to know:
What's being published and when
Who clicked and what content they consumed
Who unsubscribed
Who hard-bounced
The Publishing Calendar
Ideally, the content that marketing creates and publishes is a library of information sellers can use to support their direct prospecting efforts. If salespeople know what content is in the library and what's coming up on the agenda, they can use it in their one-to-one sales communications.
Sellers are also responsible for following up on incoming leads, so it's critical for them to know the promotion schedule for lead generation campaigns such as events, webinars, and ebooks. Planning for days when there's an influx of incoming leads ensures there are enough sales resources to follow up with prospects in a timely manner.
If Target Prospects Are Getting the Newsletter or Not
Sending regular emails with good content keeps prospects and customers engaged with your company over time. If you're not communicating regularly, your competitors have a wide-open door to start influencing the market in their direction. You know what they say: Out of sight, out of mind - and you don't want that!
Email marketing analytics inform sellers about who is and is not receiving newsletters. For example, when an email hard-bounces, that means it's invalid for some reason. Maybe the prospect got fired, changed jobs, or their email changed. The end result is that the newsletter will no longer get delivered to that address. If the email belongs to a contact at a big opportunity, that is critical information for sellers to know because it could impact their sales plan for that account.
The same goes for prospects who unsubscribe. Not only won't they be getting lead nurturing content through the newsletters, but it could also be a sign that they're disengaging from the sales process. Time to step it up!
Who is Reading the Newsletter
People that click on an email and read your content are interested in what you're talking about. They know who you are. They trust what you're saying. These could be qualified leads that are ready for a sales call. They make up your warmest prospecting list.
Even more importantly, knowing what content a prospect at a hot opportunity is consuming gives sellers deeper insight into the questions and concerns that are impacting the decision-making process.
What Marketing Needs to Know from Sales
Sales needs to tell marketing if the people reading the newsletter and visiting the website are potential customers or not. Knowing more about the people opening and clicking helps marketers evaluate if the content they're publishing is pulling in the right type of prospects.
Prospect Status: Qualified or Unqualified
As salespeople review the clicked, unsubscribed, and hard-bounce lists, they need to tag the contacts appropriately. By "tag" I mean categorize in some way: prospect, vendor, partner, reseller, customer, marketing qualified, sales qualified, opportunity, unqualified, etc.
Here's an example of why that matters: If most contacts that open and click your newsletters are unqualified, you're wasting time and money communicating with people who will never be your customer. That's a big red flag that there could be issues with your email list, content strategy, or offering. On the other hand, if newsletter readers are converting into sales opportunities, marketers know the content they're producing is adding value in the marketplace.
Content Ideas
When sales and marketing teams are aligned, sellers have direct input into the articles and content offers marketing creates. Salespeople are on the front lines and hear first-hand the questions, concerns, and objections prospects bring up throughout the sales process. They know more than anyone else what kind of information can help them educate buyers and close deals. Marketers can't create good content in a vacuum: sales needs to be intimately involved in driving the content strategy.
Conclusion
Email newsletters are not just an activity that marketing does. They're meant to support one-to-one sales activities and can be a valuable tool for sellers to use to close more deals. Sales and marketing alignment is critical for performing reconnaissance that can dramatically improve your newsletter strategy.