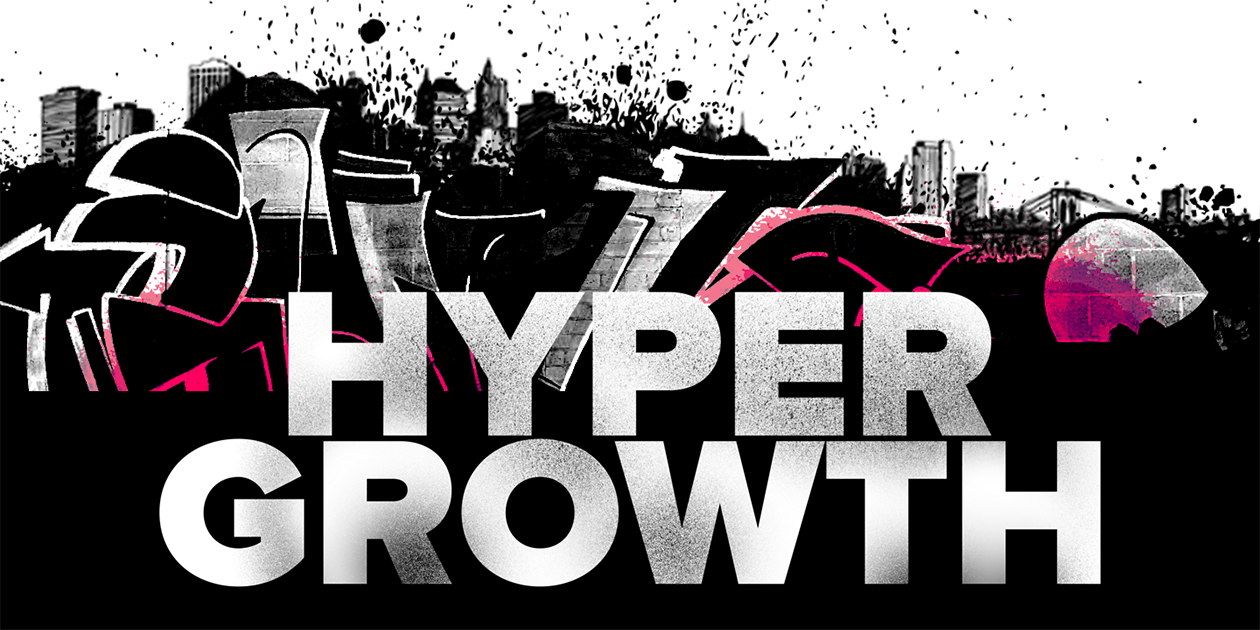 It can be challenging to step out of the grind of everyday work to attend conferences, but in a fast-paced industry like marketing, it's vital to stay up on the trends. I went to HyperGrowth in Boston a while back, a marketing conference put on by Drift, a technology company that focuses on bots and conversational marketing. There was a good mix of motivational, strategic, and tactical ideas and insights about success and growing a business.
I took notes during the presentations and recapped the key takeaways in this article. Here are eight progressive business growth strategies that the speakers discussed throughout the day. The overarching theme between HyperGrowth and Inbound (an adjacent marketing conference) was customer experience.
1. Grind it Out
Alex Honnold - Professional Rock Climber
I recently heard Alex talking on NPR or one of the other news shows I listen to, so I was intrigued when he stepped onto the stage. He is the first person to successfully climb of El Capitan in Yosemite National Park - without a rope. No thank you! Wow. He has guts of steel. Throughout the presentation, I was thinking, "What does this have to do with business growth? This is strange." His message may not have been directly geared toward marketing, but it was inspirational! Here's what he talked about:
Train hard to attain the required physical endurance to do the climb. Correlation: The muscle business leaders need to train is our brains. We need to keep learning new skills.
Practice until you feel 100% comfortable, and it's not scary anymore. Correlation: Business growth activities aren't easy, and you get better at them over time. Keep practicing your new skills until you reach a level of competency that drives results.
Rest and be quiet. Alex talked about how he turned off social media, stopped responding to email for two months before the climb, and hung out alone in his travel van. He wanted to focus on the job at hand, and he needed quiet time to absorb what he was learning. My husband always talks about this concept as well. A lot of people want to do 10,000 things in 10 minutes, but none of it is quality work. Correlation: Unplug, slow down, and give your brain time to process information. Less can be more.
2. Performance is 49%, Customer Experience is 51%
Danny Meyer - CEO, Union Square Hospitality Group; Founder, Shake Shack
Danny discussed how he was afraid to grow due to watching his Dad, an entrepreneur whom he revered, grow two successful businesses, but then end up in bankruptcy. It took Danny years and years to open up more restaurants. But he realized a successful formula and decided to go for it.
Job performance - serving customers the right way at the right time - attributes to 49% of growth.
Customer experience - the way you make them feel - is 51% of growth.
3. Engage the C-Suite and Align with Other Departments
Leela Srinivasan, CMO, Survey Monkey
Leela talked a lot about how she worked closely with the sales and product teams. At LinkedIn, she didn't have much interaction with the CEO, but at Survey Monkey, she was able to have a much closer relationship with the C-suite. Having a strong line of communication and collaboration with internal teams has helped her deliver much greater results for the company.
The takeaway: Align sales and marketing for deeper levels of communication, collaboration, and accountability.
4. Change the Way the Game is Played
Anita Elberse, Harvard Business School
Anita was my favorite presentation. She was witty, funny, and smart. She studies high-profile athletes and entertainers and examines what they do differently to beat the odds.
Here are some tidbits I wrote down:
Don't be afraid to go all out. Go for it!
Be willing to make big bets, and even double down.
Don't be afraid to take control.
If you're playing it safe, you're fooling yourself to think you'll stand out from the crowd.
Embrace the possibility of failure - epic failure. Know it will happen, and it will be painful. Fail magnificently. Dust off and try again. Failure is worth it if you believe in what you're doing. It's less risky when you're all in because your passion and enthusiasm draw people into your mission.
Believe in your own value. Be confident about what you bring to the table.
Use your skills to help others. Help others succeed. Partner with others and surround yourself with strong people.
Find your multihyphenate. Don't put all your eggs in one basket.
You can make it to the top if you: break out of your comfort zone, keep learning new skills, and surround yourself with good people.
Change the way the game is played. Do things no one has ever done before.
Why can't I?
5. Double Down on Email (and More Great Tips)
Ryan Deiss, Founder & CEO of DigitalMarketer
Ryan was interesting! He came on stage a little self-deprecating about being a marketer. At first, he did seem like a typical fast-talking sales or marketer, but he did have some interesting things to say.
Google is your most important reader. But, Google judges your content not only on how easy it is for them to crawl and index, but how good the content is. So, not only does content have to be technically correct for SEO, it has to be good enough that if someone does find it, they get a lot of value from it.
It's not about growing an audience; it's about engaging a continuous stream of prospects. Rather than writing content to keep current readers engaged over time, it's about writing content to guide prospects through the buyer's journey. I've talked about this concept in my article, Email Attrition Happens, but It's Not All Bad. Your content is for prospects, and prospects move through stages. They will flow in and out of readership with your company, depending on where they are in the buyer's journey.
You have to do everything. To get the best results and return on investment, you have to be good in many areas of marketing. You need a holistic approach.
Social media is pay-to-play. Content viewed on social media has decreased from 26% to less than 0.5%. To get found, you have to pay.
People use social media for entertainment. They are looking to waste time - they use it when they have downtime. They aren't looking to read technical articles. They want stories and interesting tidbits that catch their eye as they scroll.
Yes, he said it: double down on email. Everyone has it, and everyone uses it. It's not about blasting people with salesy messages though. It's about investing in an email strategy that adds value to your prospect's and customer's daily experience.
6. Empower the Customer
Drift Presentation
Of course, Drift did a presentation about their company. Their talking points revolved around the fact that salespeople no longer have the power in the buyer-seller relationship. Buyers don't need salespeople to give them information anymore - they can find out everything they need to know online without ever talking to anyone.
We need to provide prospects and customers with multiple ways to contact us and engage when they are ready. Bots give the power to the customer to control the conversation. They can ask the questions when and where they want as they progress through the buyer's journey. Well-designed bots can also catch leads much earlier in the sales cycle.
7. Create an Exceptional Customer Experience - No Matter What
Jenn Rubio, Co-founder and Chief Brand Officer, Away
Jenn talked about how they turned a problem with their luggage design into a great customer experience. The way the company handled the disruption to users made them feel like the company truly cared about them. The people that experienced the problem felt so valued that they turned into loyal followers and promoters.
8. Entertainment is a Requirement
Billy Gene, Founder and CEO of Billy Gene Is Marketing Inc.
Billy was entertaining. I liked him. He had some good tips on why and how to use "entertaining videos that sell shit." So, at this part in the day, I was starting to get speakered out, and I didn't write down the tips. But I got the gist - if you want to capture people's interest you have to be entertaining. You can't be dry, dull, and boring. Do fun stuff, show personality! Be outrageous. I get what he's saying, and I agree. It seems like marketers have to become producers and actors on top of everything else! You need to have people on your team that know some things about being on-screen and are compelling in some way.
Wrapping it Up
There were two other presentations, but I left early with a couple of colleagues I came with, so I missed them! Overall though, I thought the HyperGrowth content was of value. I have some new motivation for continuing to grow my agency and ideas for how to increase success for my clients.